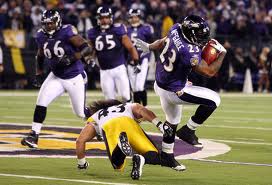 Cornerback Derek Cox knows just how difficult life can be in the league. The Baltimore Ravens decided to cut the veteran from their ranks on Saturday, and this is the third time that the player was cut by a team in the span of two weeks. Yes, price per head agents know that things can get very tough in the NFL.
On August 25, Cox started training camp for the Minnesota Vikings, but ended up being cut from the team when they decided to trim their roster to 75 players from the 90 that they had. The player then signed on August 27 with Baltimore, but was only able to stay with them for three days before he was let go on August 30 when the last cuts were made by the team.
This week, Cox was re-signed by Baltimore, and many price per head agents believe that the reason for this was that they weren't sure if Lardarius Webb would be able to play for the Ravens' season opener against the Cincinnati Bengals. He couldn't play for the whole season due to an injury to the back, but this week he held full practice.
Many experts believe that Cox's release means that Baltimore are feeling very optimistic about the chances that Webb has to play for them when the team takes on the Bengals. The player was officially considered as questionable for the Ravens' opening game against them.
And if Webb plays in the game and his injury is aggravated somehow, that would mean that Baltimore would have a bit of a problem regarding depth in their secondary. The Ravens will play in the game on Sunday with the services of only three active cornerbacks – Chykie Brown, Jimmy Smith, and Asa Jackson.
On Saturday, Cincinnati also made a move when they decided to take Onterio McCalebb out of their practice squad and put him in the team's active roster. McCalebb, who played in the running back position for Auburn, became a cornerback with the Bengals, and many experts know that the team must have their reasons for making this change.