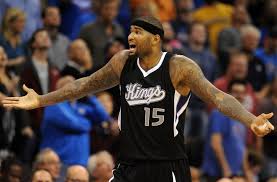 The Kings' DeMarcus Cousins had an answer to Charles Barkley criticizing him, as he said that he doesn't care about what the TNT analyst has to say, and bookmaker software services can see the tension between the All-Star center and the ex-NBA great.
"It ain't personal," said Cousins. "I mean, I don't really respect the guy, but at the same time, I don't really care what he thinks either.
"I don't respect him and I don't care what he thinks."
Recently, Barkley criticized the center, and he even used a curse word to describe his disgust when talking about reports that the Kings consulted with the player before they acquired the services of George Karl, the team's head coach.
"Why are they discussing it with him," said Barkley. "Yeah, I am totally disgusted with that. … He hasn't done enough to deserve that type of power. [The Kings] stink. Why would you give a guy that young that type of power?
"If you're a Kobe Bryant, Michael Jordan, Shaquille O'Neal, Hakeem Olajuwon or somebody like that, yeah, you deserved that type of power after you have earned it. Let me just say this either way, that's just total [garbage]. That's ridiculous."
On Saturday, Cousins answered, and he said, "I mean, that's Charles being Charles."
"A lot of people don't really know the real story about it," Cousins said. "I never really had anything to do with it in the first place."
It's no secret that Cousins and Barkely happen to be a couple of the best ball players to emerge from Alabama, and in their respective drafts, they were both chosen as fifth overall.
But bookmaker software services saw that last year, Cousins said that he believed that Barkley started to criticize him since the former player saw him perform when a high schools state playoff meeting in Alabama was taking place, and spoke to the media.
The player also thought that Barkley was backing Paul Westphal after Cousins was suspended by the former Sacramento coach in 2012 after conduct that was considered to be detrimental to the team, something that many fans remember very well.
When Cousins was asked if he sees Barkley as being an authority in the sport due to his TV opinions, he apparently wasn't in agreement.
"I wouldn't necessarily say he's anybody of an authority," said Cousins. "I would just say he is very comfortable on the television."