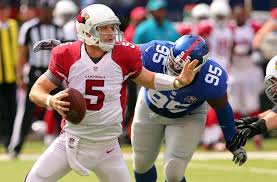 On Sunday, the Cardinals lost the services of QB Carson Palmer with an injury. The player was put on Monday on the IR list, which ends his season due to a tear of his left knee's ACL – an injury that left many fans and sportsbook software services very concerned. Now, coach Bruce Arians believes that despite this problem, the team will continue to be successful with Drew Stanton, their backup QB.
And the coach even believes that they can make it all the way to the Super Bowl, and possibly win it.
"We can win the Super Bowl with Drew Stanton," said Arians after Arizona beat St. Louis. "There is no doubt in my mind."
Many fans see this as a pretty bold statement, as before this 2014 season, Stanton only started in four meetings in his career's first six years. However, it's good to keep in mind that the Cardinals were able to win their three games that Stanton started as QB this year, and apparently the WR's feel at ease with the player on board.
That was clearly seen when the backup QB sent a 48-yard pass for a TD to John Brown after taking the place of Palmer during the game's third quarter, with the score giving a lead to the Cardinals – one that they were not willing to give up.
"All week at practice, Carson loved this deep throw to John Brown," Stanton said to King. "We had it in the game plan, and at halftime we said, 'We want to take our shot with this play. It's going to be there.'"
However, on Sunday things for Stanton got pretty complicated, as last Wednesday, Kristin – his wife – was set to give birth, and she sent a text to the player on Sunday, saying that he might want to quickly go home once the game ends because, "She felt like the contractions were coming," said the player.
On Sunday, the baby wasn't delivered, but now Stanton must keep on leading Arizona in their bid to make it to the NFL's final showdown and win the sport's most coveted prize.
Many Cardinals fans know very well how talented Stanton is in the game, and would like to see how far he'll be able to lead the team this season. Sportsbook software services know that there are very high expectations for the player, and many are confident that he'll lead the team to many wins in future matches, and maybe even take the Cardinals all the way to the Super Bowl, helping them win the final showdown.