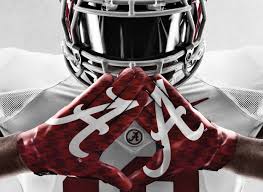 As the new season of College Football is upon us, pay per head Sportsbook bettors are planning and analyzing their strategies. A team that has been constantly regarded by many fans as favorites for this upcoming season is the Alabama Crimson Tide. There has been some doubt by a growing section among fans that are beginning to consider the Crimson Tide as overrated, it this something that you as a bettor need to be concerned with? Are they really contenders?
Nick Saban and Alabama are a very strong team that will look to come into this season with one goal on their minds: The National Tittle. Since winning the national championship in 2009, Alabama has always been considered as favorites to take it all ever since. In the next five years they went on to win two more tittles. Saban and his coaching staff have imprinted a winning mentality among his players year after year, and while they may not have made it to the Championship game, they have been always in the discussion of the top teams in College Football.
The recent national rankings have placed the Crimson Tide ranked as #3, and plenty of College Football fans and pundits are questioning in that is a fair position for Alabama to have. In live betting bookmaking services and pay per head Sportsbooks, they are among the favored and preferred teams to make it to the final playoffs, and respectable contenders for the National Championship. The reason for this is their coaching staff and how solid their team is and has been for the past six years. That consistency is a mark of a football program that seeks to continue a winning formula that Saban has provided to this school.
As for their 2015 season, Alabama are certainly not an unbeatable team. Their offense appears to have certain minor issues that can be fixed. Their defense has some concerns in their secondary line, a situation that is being there since last season. There is much to be corrected if they are expected to reach the top spots in the ranking. Yet, there is another factor that could be factor against the Crimson tide, and that is the very tough schedule that they were drawn. For all the month of October and the beginning of November they will have a killer schedule and it is not very likely that they will come out with an unblemished record.
It shall be pointed out that the challenge ahead of Alabama is a complicated one, but if there is a team that can come out of it a reach the other side, is the Crimson Tide. Per head Sportsbook enthusiast will see them, pull some narrow wins against tough teams and keep managing to escape and try to reach the top of the rankings.