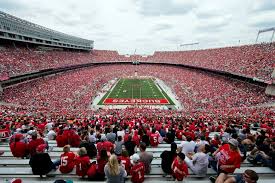 It's so good to have college football back into our lives. Per head services enjoyed a pretty eventful first week of action and after the first games of the season, the favorites are out there proving why they are considered to make a big splash this year. Even though its absurdly early to make any realistic predictions, a lot of what was shown after this past weekend can help shape a potential playoff scenario for college football.
The reining National Champions Ohio State have their work cut out for them but they are the strongest team in College football. They are the overall favorites in per head services and sportsbooks as the favorites to take the #1 spot in the ranking. They have a manageable schedule and they have the talent to achieve a repeat championship win.
The next 3 positions in the ranking can be interchangeable between the following teams. What it is exciting about College Football is that you are always a win away from getting a big boost on the rankings and one loss away from being knocked out (Alabama, last year). However, there is a slight inclination in per head services and gaming experts to put Baylor as the #2 team in the Nation, and perhaps Ohio State's biggest threat to the National tittle. They have a strong team on all lines and they are experienced enough to make this a stellar year for them.
The last two positions in the ranking are going to be brutally contested by so many excellent teams. UCLA, TCU, Auburn and Notre Dame are teams that could crack the playoffs, but ultimately we will see Clemson at #3 and Alabama at #4. Per head sportsbook enthusiasts might be cautious and see them as perhaps not the favorites to reach these spots, but after what was seen during this first week these two teams might have been a bit underestimated by everybody.
The Crimson tide in particular is perhaps the weakest link among these four teams on paper. However, Alabama is going to have their backs against the wall this season, specially during the entire month of October with a hellacious schedule. This can be a real test to their true potential. And as far as going to make a bold statement, should the Crimson tide reach the Playoffs, it wouldn't bee too far fetched to put them in the National tittle game versus Ohio State. They would lose that game, but they will have one heck of a season.