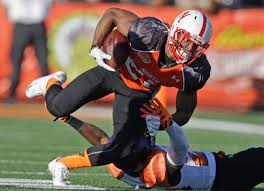 Finally, the long wait is over and College Football is officially back this weekend! And in order to help get ready for the action we are going to highlight some of the key games this first week of action for all you per head sportsbook betting. From all the games that will happen during the weekend we bring you the games that you can't miss out on.
This Saturday, Louisville will face Auburn in Atlanta and everybody watching this game will have their eyes on QB Jeremy Johnson. Up until this point the anticipation on Johnson's performance this season is reaching a fever pitch among Auburn fans. The Tiger are the overwhelming favorites for this game (-10) on all per head sportsbook providers. Louisville doesn't stand a chance, but they might be able to help put up numbers on this game. The best bet will be to lay the over on this one.
Another interesting game to look out for will be Texas at Notre Dame. This match up will be a hard-hitting affair. Both programs are looking to establish a good record from the get go and will want to muscle a victory. It will be a game that will showcase both program's new QBs, so they will be the center of attention. Per head sportsbook betting fans best pick will be to pick the Fighting Irish on this game, although the under doesn't seem like a bad pick.
Another important match up for this weekend will be Wisconsin vs Alabama. The Crimson Tide are favourites in most bookie services with a line that averages -12, but they will face a team that will put their defensive lines to the test. Wisconsin has an excellent running game that is expected to give them a lot of wins this season. Alabama on the other hand has one of the most elite defensive lines on the nation. It will remain to be seen how will Alabama's offence will respond, but they are expected to win this game by 7 points.
The last we will highlight will feature the National Champs Ohio State Buckeyes visiting Virginia Tech. Coach Urban Meyer has yet to unveil the QB that will lead the Buckeyes in their Tittle defense. The reigning National Champions will face one of the toughest defensive units in the country. It will be a very interesting test to see how will they manage under the pressure of being in the center of everybody's attention. The Buckeyes are favourites and we believe they will win 31-24.