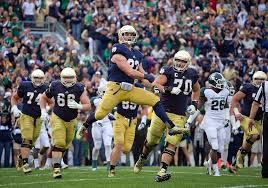 College Football spring games are available this weekend, but due to the NBA and the NHL playoffs, football betting fans will have to get their fix online and NBCsports.com is one of the sites that will be live streaming games.
Notre Dame will finish up its first spring training at 12:30 pm on Friday, before the Blue-Gold game on Saturday, and the Irish were certainly inspirational this past year with a 8-5 regular season record. Look for the power of their quarterbacks to propel the team forward this year. Everett Golson and Malik Zaire have made Coach Kelly state that his QB depth is comparable to other teams, such as Ohio State.
Also on Friday, at 7 pm, per head agents will watch the Georgia Tech Yellow Jackets, who finished 10th last season and ended the year with an Orange Bowl win. This college football spring training game will have some new talent, which will make for a good evaluation exercise for football betting fans. This game will be available on ESPN3.
The Louisville Cardinals also are up at 7 pm on Friday, however so far we haven't found an online stream.
On Saturday the Pittsburgh Panthers play Notre Dame at Highmark Stadium and this game and this game is all about the winners' prize; a steak and lobster dinner. Their 6-7 record doesn't necessarily bode well for them, and they may be eating franks and beans instead.
The Blue-Gold is in its 86th year, and there are a few different rules from regular football betting games.
– The first half will be two 12-minute quarters with normal clock stoppages.
– The second half will have two 15-minute quarters with running time.
– There is no play clock.
– There will be clock stoppages for injuries and timeouts. (Each team will get three time outs.)
Coach Kelly said that he believed that last year the Fighting Irish ran approximately 30 or more plays while in the second half they averaged 19 plays per quarter.
There are a ton more spring training games out there, so it's time to get the football fix. (especially if you've missed it since the bowl games)