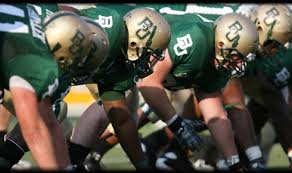 This coming Friday September 4th, Baylor Bears Football will be back against MSU, on a game that is being highly anticipated by bettors on bookmaking services and price per head sports books. This season will be full of hopes for the Bears and their fans as they will hope to make an impact this season and live up to the expectations of them being poised to be one of the best teams in the Big 12 and, maybe even the Nation. They are considered to be the #4 team in the Nation starting this season. Is the ranking correct? Does that put pressure on the Bears? Can they deliver?
At the Quarterback position the Bears will have Seth Russell back commanding the offense. During his tenure Coach Art Briles has been able to help his QBs to live out to their fullest potential, and excel. Undoubtedly, Russell will benefit from his guidance and he can become one of the top players on the league this season. However, Russell will have a lot of pressure on his shoulders, as he will need to follow the performances of the likes of Robert Griffin III, Nick Florence and Bryce Petty. He will need to truly demonstrate that he can take this Bears team and lead them to a Three-preat in the Big 12 and a shot to the National Tittle.
Last season Baylor had a difficult year on their defensive end. The primary concern for live betting fans on bookmaking services is on the secondary line. Baylor suffered more than it should have and gave away a lot of yards. The reason back then was because their secondary still needed to properly blend in and fit. Three fundamental players of their 2013 season were gone and they were forced to build up their secondary once more. Currently, with the experience of last season improvements are not only expected, they are required if the Bears want to be taken serious as contenders. At this point, it will be one of the first points that will be evident during the first games of the season.
Baylor has earned the respect of the nation as one of the best teams in College football, and they will seek to stay relevant for this season also. Winning the Big 12 for the third year in a row is their main goal. It will cement them as the top football program that they are, but the icing on the cake will be a National Championship. They definitely have the potential of reaching that far on the season. However, we do not see them reaching the National Championship game.