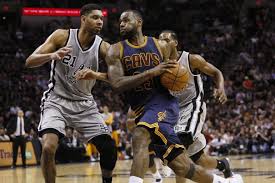 The Cleveland Cavaliers open up as 9/4 favorite to win the championship. The Cavs were pegged as a long shot to win it coming in. They are now considered the favorites. Bookmaking software and sportsbook software alike will carry on with Vegas and pot Cavs as favorites followed by the Golden State Warriors who came in at 5/2. The defending champion Spurs are at 4/1 which completes the trifecta of single digit odd for this year's playoffs.
The Cavs even though the second seed in the east as even seen the odds drop to even money in some sportsbooks. The Cavs first round matchup will be against the Boston Celtics who took the 7th spot.
Around June The Cleveland Cavaliers odds were placed at 60/1. That was before the rumors started buzzing about a LeBron James return. Bets on the Cavs started showing up in Vegas of $1000 at 40/1. The people had a hunch and these odds are the type that you pounce on. LeBron James announced that he was coming back to Cleveland on July 11th, and the books quickly anointed the Cavs the favorites.
The Golden State Warriors owners of the second best odds in the playoffs, and also owners of home court advantage throughout the playoffs opened at 20/1 on Feb. 8th. They're first round matchup will be against Anthony Davis and the upstart New Orleans Pelicans. Game 1 will be this Saturday. The Pelicans are 100/1 to win the title. They were 250/1 on Feb. 8th. When a bettor at William Hill placed a $1000 bet on New Orleans to win it all.
The biggest surprise to reach the playoffs is the Milwaukee Bucks, according to Bookmaking Solutions. They opened up at 300/ last summer. They are 200/1 entering the playoffs, same as Brooklyn Nets and the Boston Celtics. Milwaukee will face a veteran group of Bulls hungry for a championship so they have their work cut out for them. There was also a wager placed on the Bucks to win it all at 300/1.
The Nets opened last March at 750/1 and William Hill took $100 bets at those lofty odds. Brooklyn will be facing the Atlanta Hawks, the top seed in the Eastern Conference in the first round of the playoffs. The Atlanta Hawks after having a tremendous season is at 12/1. Can LeBron James bring a title to Cleveland in his first year back? Vegas seem to think so.