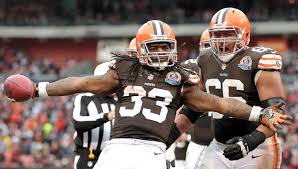 The Browns, working with coach Mike Pettine, went 6-3 in nine games last season. However, PPH bookie services saw that things did not go very well for them down the line. The team's season ended at 7-9, and they were again out contention for the NFL playoffs. In 2015, Pettine is still building the team, and he'll have to figure out what to do if he wants to see the Browns end anywhere at the top of the AFC North. Considering this, sportsbooks are not very hopeful with the Browns, as they put the team at 40/1 to clinch the AFC Conference, +900 in the AFC North, and 75/1 to be the Super Bowl winners.
QB Brian Hoyer was the starter in 13 of Cleveland's games, and the player was able to throw for 3,326 yards. Now he's with the Texans. The whole show involving Johnny Manziel lasted for a big part of his whole season as a rookie, ending with two bad starts. The QB – a former winner of the Heisman Trophy – will most likely try to steer clear of the public eye this year. The Brows acquired Josh McCown to be the starter at QB, and the coach has high hopes for the veteran.
Besides Hoyer, Cleveland lost the services of CB Buster Skrine, TE Jordan Cameron, NT Ahtyba Rubin, but Pettine should be able to work through these losses. The team got a very good pair of WR's in Brian Hartline and Dwaine Bowe, something that gives many fans plenty of hope. These players, besides Andrew Hawkins – the top receiver last year – are giving McCown some proper targets. Pettine, who was a DC in the NFL, is trying to slowly work around the team's defense. The coach also has some very good talent in LB's Barkevious Mingo and Paul Kruger.
If Justin Gilbert – the first-round pick in last year's draft – shows how much he can achieve on the field this year, the Browns could very well be working with one the league's top CB pairs. Joe Haden – Pro Bowler on two occasions – is another one. Danny Shelton was drafted by the Browns so he can take the place of Rubin at the NT position. With Shelton in their ranks, the Browns should be able to properly defend their run. Last season, Cleveland ended at last place in the NFL for a rushing defense. If the team's defense can defend the run better this time around, the Browns could get a shot to beat the league's odds and rise in the AFC North. Even though the Browns will do a better job on the field, PPH bookie services believe that it's not likely at all that they'll be contenders for the playoffs.