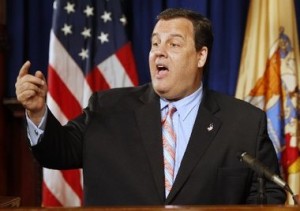 In a surprise move, New Jersey Governor Chris Christie announced plans to move forward in an attempt to legalize sports gambling after 13 recent arrests were linked to a mob controlled per head shop in Costa Rica.
State Sen. Raymond J. Lesniak's comments on Wednesday help to forge ahead the idea that state run sports gambling will stop the monopoly by crime syndicate families. "Under the current laws, organized crime has a virtual monopoly on sports book, and they're using offshore internet operators to bring their business into the 21st century," said Lesniak, D-Union, and sponsor of bills to mainstream internet wagering and sports wagering.
Governor Christie, who earlier support had in recent weeks begun to falter, apparently jumped on the idea and presented it to the press as Atlantic City kicked off its tourist season.
"We intend to go forward," the Republican governor said. "If someone wants to stop us, then let them try to stop us. We want to work with the casinos and horse racing industry to get it implemented.
"Am I expecting there may be legal action taken against us to try to prevent it? Yes," the governor said. "But I have every confidence we're going to be successful."
They may have more than just a fight with the federal government. The per head sportsbook has been thriving since the early 2000's and its well established roots in the price per head business means that it's not going away any time soon.
So with only an act of Congress that limits sports betting to four states standing in the way, New Jersey could very well be the next state to offer sports wagering at its casinos and race tracks.
A federal law called the Professional and Amateur Sports Protection Act limits sports betting to four states that approved it by a 1991 deadline: Nevada, Delaware, Oregon and Montana. Oddly enough New Jersey had the chance to get in on the action, but failed to get in by required time.
Last year Christie vetoed a bill that was pass by legislature on concerns over the constitutionality. Since the rampant loses at casinos and tracks, as well as state tax loses, I guess the bill looks pretty darn good after all.