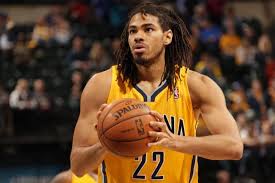 Indiana Pacers forward Chris Copeland, and to other women were involved in a stabbing, outside a Manhattan nightclub early Wednesday morning. The incident occurred after an argument and also involved the arrest of two Atlanta Hawk players. The Hawks players were Pero Antic and Thabo Sefolosha, and they were arrested on charges of obstruction of the crimes scene. The police said the players blocked the officers from trying to start their investigation. Copeland suffered a knife wound to his elbow and abdomen. In addition they say Copeland fractured hi elbow and will have surgery on Wednesday.
The name of one of the victims was, Katrina Saltara there are differences in information on the woman. Some say she is Copeland's wife; others say she was engaged to Copeland but are now just good friends. Sources say she and Copeland were having a conversation outside of the club when they were approached by a stranger. Copeland said that he had to go and the stranger took it the wrong way. He pulled out a knife and stabbed Copeland. Saltara then jumped on top of the man's back and tried to chokehold him. She was then slashed, struck on the arm and across the breast.
The third woman was believed to be with the stabber. She was slashed din the abdomen as well and sent to Lenox Hill Hospital. She is in stable condition. The suspect is in custody. His name is Shezoy Bleary. It's no clear if Bleary had an attorney who could comment on the situation, and the knife was recovered on the scene.
Pacers officials said this "We are aware that Chris Copeland was injured early this morning in New York City," Pacers president of basketball operations Larry Bird said earlier Wednesday. "We are still gathering information and will update when we know more. Our thoughts are with Chris and those injured."
Hawks vice president Garin Narain said in his statement "We are aware of the situation involving Pero Antic and Thabo Sefolosha this morning," Narain said. "We are in the process of gathering more information and will have further comment at the appropriate time."
The Pacers are having a very good year under very bad circumstances, and Coach Frank Vogel has them playing at a high level even without star player Paul George. Pay per head agents have them pegged at 200/1, but the addition of George just a few days ago might make Sportsbook Software lower that a tad.