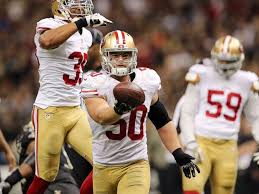 Price per head sportsbooks were stunned to learn of San Francisco 49ers' Chris Borland's decisions to retire after only one season. The 24 year old came to the realization that his 4 year contract for $3 million wasn't worth the risk anymore.
"I just thought to myself, 'What am I doing? Is this how I'm going to live my adult life, banging my head, especially with what I've learned and knew about the dangers?'" Borland told ESPN.
"I just want to live a long healthy life, and I don't want to have any neurological disease or die younger than I would otherwise."
"You read all these stories and to be the type of player I want to be in football, I think I'd have to take on some risks that as a person I don't want to take on."
Price per head sportsbooks have learned that CTE, or chronic traumatic encephalopathy, is a ongoing neurodegenerative disease which slowly debilitates the brain and has been thought to lead to violence and suicidal thoughts and actions. Over the past few years several former NFL players have been found to have CTE, unfortunately during their autopsies.
At this time it is not possible to diagnose CTE definitively, but concussions and repeated hits to the head are the main causes. CTE has been found in people that play rough sports such as football, boxing and hockey.
But Borland is not the first to retire at an early age as discovered by Price per head sportsbooks.
Jake Locker of the Tennessee Titans retired last month at the age of 26, after an injury filled career.
"I am retiring from football after much reflection and discussion with my family,"
Linebacker Jason Worilds of the Pittsburgh Steelers retired last week at the age, walking away from a 20 to 30 million dollar contract as he approached his free agency. His reasons however were more for his religion than health fears.
Still, giving up all the money that would have been earned is something that should have the NFL worried. What would happen if everyone just decided it wasn't worth it?