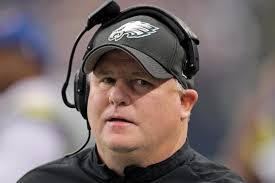 Chip Kelly said that he doesn't have any problems with Eagles CB Cary Williams, who on Sunday said that the team's sluggish starts had to do with the practice methods used by the Eagles' coach, which many Live betting fans consider to be pretty unconventional.
On Monday, Williams went to the Eagles' complex so he could meet with the coach.
"He was frustrated," said the coach. "I have no issues with Cary. Cary's just a competitor. He always wants to play a perfect game. He'll tell you he just got frustrated."
The player only had two days' worth of practice last week due to a problem involving a hamstring. Live betting fans saw that on Sunday, the 29-year-old was able to play all 78 defensive snaps when the Eagles took on the Redskins.
"A lot of guys coming in here had no legs," said Williams. "We've got to start taking care of our guys throughout the week in order for us to be productive and have more energy on Sundays. You've got to be smart, as a coaching staff and as players.
"I'm just going to be honest with you. It's hard to go out there and fight for 60 minutes when you're fighting throughout the week to make it through one practice. I'm not the only one. I'm just the only one that's man enough to stand up here and talk to y'all. It's obviously, in my opinion, an issue in our starts."
On Monday, the coach said that "we ask our guys to run" more than a lot of other NFL teams do. However, the player said that Philadelphia – applying their approach, which is based on sports science – keep a close eye on their players, and they modify their regimen whenever they see fit.
"We assess everybody daily," said the coach. "We monitor every player. It's all done on an individual basis. You'll see some guys who aren't going full on a day and other guys are going full. It's all done on an individual basis. We take care of everybody from that standpoint."
Williams said that his age played a role, and Kelly said that a player's age is taken into account by his staff.
"We look at every player as an individual," said Kelly. "What we do with Trent Cole is different from what we do with Marcus Smith. What we do with DeMeco Ryans is different from what we do with Casey Matthews.
"Every player, on a daily basis, the strength coaches sit down with every guy. 'Where are you? What do you need? Is it a hamstring or a hip or a shoulder?' Because everybody is different and there are a wide variety of ages."
The coach said that the fact that Williams spoke about this matter to the media is not a problem.
"You guys are everywhere," said the coach. "I told him he can [come to me]. Some places, you can't come talk to the coach. My door's always open."