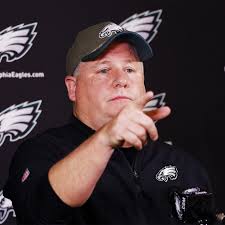 Pay per head sportsbook sources report that Eagles coach Chip Kelly weathered the storm in which several people claimed Kelly made team choices based on race. Most recently, cornerback Brandon Boykin texted to CSN-Philly that Kelly is "uncomfortable around grown men of our culture." That was widely interpreted to mean African-Americans, in the wake of previous comments by former Eagles LeSean McCoy and Tra Thomas.
After being traded to Buffalo, McCoy said that Kelly "got rid of all the good black players." Thomas, who spent two seasons as an assistant coach on Kelly's staff, said that players sensed "a hint of racism" in the way Kelly ran the team.
PPH Bookie agents saw that some players believe it all started with Riley Cooper and Kelly's decision to keep Cooper around. This of course is after a video surfaced of Cooper shouting the N word to security guard at a concert. After the incident in 2013 Copper was signed to a 5-year $22.5 million contract.
"I think that Riley made a mistake," Kelly said Tuesday. "That's part of it. We all backed him. Michael [Vick] backed him. Jason Avant backed him. I think that's part of being in an organization and on a team. I look at that as a specific incident where he was 100-percent wrong. Those are things that should never be said.
"I hope he learned his lesson. I think he regrets what he did that day, every single day. I see that in him. Do I regret what I did in terms of how we handled Riley? No, I don't."
Kelly was asked if he saw a connection between the Cooper incident and the recent comments from former players, Kelly said, "There could be. I literally don't spend time trying to connect Y to X to Z. We have other things to do."
A day after sending his text message Boykin clarified the comment.
"When you're a player, you want to be able to relate to your coach off the field," Boykin told reporters at St. Vincent College, site of Pittsburgh Steelers training camp. "There were times he just didn't talk to people. You would walk down the hallway, he wouldn't say anything to you. I'm not saying he's a racist in any way."
"We have an open-door policy," Kelly said. "I had a long talk with Brandon last spring when he came in and sat down and talked to me. You can come talk to me whenever you want to come talk to me. We also have a pretty structured day where guys are in meetings. I don't just walk around and say, 'Hey, let me go grab him and sit down and have a coffee together.' When they get here, they're doing stuff.
"In the offseason, we're limited with our time. You get guys for four hours, there's not a time when we're all sitting around, holding hands, singing 'Kumbaya' together. We're in meeting rooms, getting stuff done. They're in the training room, getting stuff done. They're on the training field, getting stuff done. I don't think it's any different from any other head coaches in terms of where you are."