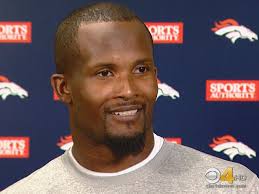 Wes Welker is a very proud football player. He's always been underestimated, I mean look at his small stature and it's easy to see why. Despite suffering three concussions in nine months he's not ready to give it up. Former teammate Champ Bailey hopes he does thought, this per pay per head sportsbook sources.
"I don't want Wes to play for my own personal reasons. I've seen him get concussions. It scares me," Bailey told Fox Sports. "I think he can still play, but I don't want him to play because of these concussions.
"This thing is no joke. It's a serious thing when you start talking about your head. And for him to have to worry about that at a young age that he is now, he has to think about that for years to come, and I just hope he hangs it up and not strap it up again."
Champ and Wes have been teammates for the past two years, but are still unsigned. Wes has been in the league for ten years, over that span playing for the Miami Dolphins and the New England Patriots. He has amassed 890 career receptions for 9,822 yards and 50 touchdowns over his career.
"I understand why he has that desire to play, he wants the ring," Bailey told Fox Sports. "He still has that hunger, I just don't want to see it."
Wes has not been the same player for quite a long time. He signed a 2 year $12 million dollar deal with the Broncos but saw his roll diminished after suffering a concussion in the preseason. His third in a nine months span after two in 2013. He also had to serve a two game suspension for violating the league's policy on performance enhancing drugs.
Wes Welker amassed only 49 receptions in 2014, his fewest since he had 29 catches in 2005. Defenses no longer have to double team. Welker was targeted just 8 times in the final three games combined. He was a great player for his prime years, but like every other athlete, skills decline. Wes says it strictly because of the concussions. The NFL has taken a big stand in the fight against concussions in the NFL. It is a priority and they have made strict rules for players after it is deemed by doctors they have suffered a concussion.