The Golden State Warriors have come through on their word and traded David Lee to the Boston Celtics, per pay per head sportsbook. The Warriors will receive rugged small forward vet, Gerald Wallace. The trade can't be consummated till Thursday when the league wide moratorium opens.
David Lee though still a very serviceable forward found himself on the bench due to the budding star that is Draymond Green. Draymond thanked Lee for his tutelage in a tweet.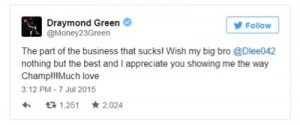 Draymond received an $80 million dollar deal for his play this year, truly a magical season for the Warriors. The Warriors also have the ability to waive Wallace who they received in the trade, but seem content on holding on to him.
The Warriors fulfilled their desire to move David Lee into a good situation without surrendering an asset.
David Lee will be joined in Boston with free agent acquisition Amir Johnson. They have also struck deals with forwards Jae Crowder and Jonas Jerebko. Lee did not play a lot during the season or during the playoffs, but in the finals Kerr found himself in a predicament a guess what number he called. David Lee was put in the game at center and played his usual game, letting everybody know he still got it. Lee served as the first big man of the bench for games 3, 4 and 5.
Another tweet from Klay Thompson showing his appreciation for David Lee.

"I'll have chances from here," Lee vowed in an interview with the NBA Insiders on ESPN Radio after watching all of Game 1 of the NBA Finals from the bench. "It's not like I'm trying to prove to people that I'm able to play this game.
Everybody knows that I'm capable. But it's been kind of cool to put the ego aside and say, 'Hey, this is about something bigger than me.' There was always the talk when I was in New York that I was a guy that could put up numbers but couldn't help the team win … [that] it was all about me and not the team."
"A lot of guys that are on bad teams that put up big numbers kind of have that rap, and that's not what I want to be known as. I want to be known as a great teammate and a great competitor. So I think I've proven that this year. That my attitude hasn't changed the entire season. I've been ready."