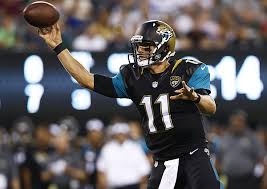 The Jacksonville Jaguars might not change anything this week when it comes to their QB, but football betting fans found out that they will definitely do something with their right tackle position.
On Tuesday, Cameron Bradfield was released by the Jaguars, and through the season's first two weeks, the player was their starting right tackle.
Bradfield played with the Jaguars since 2011, and in the last four seasons he was able to start 27 times for the team. But on Sunday, the player was struggling in the Jaguars' 41-10 loss to the Redskins, and Chad Henne got sacked on 10 occasions, to the disappointment of many fans who were watching the game.
And even if the Jaguars wouldn't have released Bradfield, there's the possibility that the player would not have even started on the game this Sunday, and many football betting fans believe that this could have been a very real scenario. The player was taking the place of Austin Pasztor, who had no choice but to miss the regular season's first two weeks after suffering from a fractured hand in Jacksonville's second game of the preseason on August 14.
On September 10, Pasztor said that he was hoping to return in time for the Jaguars' game on Week 3 against the Colts, and many fans out there would certainly not mind seeing the player back in action, considering how much talent he has in the sport.
"I think so [for Week 3]," Pasztor said on facing Indianapolis. "I'm not really sure where I'm at right now. It's hard to say. It feels great, but the doctors want to let the bone heal at least some. Later on this week, I'll get a scan on it and we'll see where it is."
If Pasztor does not get the green light to play for the Jaguars' game on Sunday, it's very likely that Sam Young will start for the team instead. Many fans of the Jaguars now want to see what's next for these players, and will continue to follow developments on the whole team.