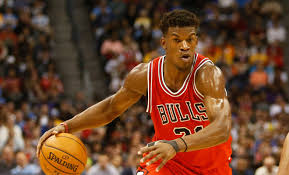 On Thursday the NBA named Chicago Bulls shooting guard Jimmy Butler the Most Improved Player of the year. One of the league's best two way players, Jimmy Butler came into the season on a contract year. That was not the reason Butler came away as the winner of the award. Butler had been showing steady improvement every year under Coach Tom Thibodeau, but this year it all came together. Butler has pretty much played the whole season with a banged up wrist but was able to be mostly healthy throughout the season.
Butler was a no doubt winner of the award through the voting process. He garnered 92 points of a possible 129 first place votes form a panel of media members. In total Butler earned 535 points. In second place came Golden State Warriors Draymond Green with a total of 200 points and 11 first place votes. Rudy Gobert of the Utah Jazz came in third place with 189 points and 12 first place votes.
Former Bulls star and small forward Scottie Pippen had this to say on Twitter to congratulate Butler.
Online Bookmaking Solutions and Sportsbook Solutions have the Chicago Bull odds at 7/1 to win the championship. Butler will be a key contributor to a Chicago title run. The window of opportunity may not be a close as it is now with Butler impending free agency.
The NBA has stated that it will hold a press conference. Thursday afternoon to award Butler with the trophy. Jimmy Butler will also be honored on Friday with an on court presentation at the United Center before a game 3 matchup versus the Cleveland Cavaliers. Butler let it be known that he is more focused on the task at hand than winning the award. "I want to win this series, I want to win the championship, and at the end of the season, maybe that Most Improved award will mean a lot more," he said.
Butler played 65 of the 82 games due to injury, but he hiked up his scoring average from 13.1 points per game to 20.0, a significant increase and one of the reasons why he won the award. Jimmy Butler also became an Eastern Conference All-Star for the first time this year a very well deserved honor. And he also raised his shooting percentage from 39.7 to 46.2 from the floor. Simply put Jimmy Butler has become a complete player.