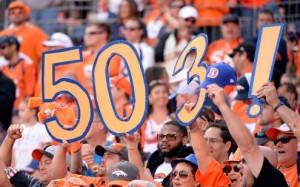 Peyton Manning is approaching one of the biggest records in the NFL. Price per head agents know that if he's able to make just six more passes for a TD, the very famous Broncos QB will be the one to beat Brett Favre as the league's unsurpassed player in this part of the game.
Many experts believe that the QB is very likely to beat the record in the following two or three weeks, and Favre doesn't mind at all – in fact he said that he would be happy if Manning can accomplish this feat.
"I'm glad it's Peyton that's doing it," said Favre, according to the Associated Press. "I think a lot of Peyton. I know him well. I know his family well. His dad was one of my idols."
When Favre was growing up, he saw Archie Manning when he was throwing passes for the Saints, something that many fans remember very well. Archie's career finished with 125 TD passes, which is not near the 508 recorded by Favre and the 503 by Peyton.
And Favre said that he has no problems whatsoever in letting go of his record.
"I'm not surprised, as well as he's been playing for so many years," said Favre. "I think as far as wanting to hold on to the record, I mean, I have no feelings of, 'Oh, my gosh. I wish I could hold on to that.' None whatsoever."
"I'm proud that I threw for 508 touchdowns, but I'm most proud of my consecutive-games streak," said Favre.
During his career playing for the NFL – one that spanned 20 years – Favre was able to start in 297 regular-season meetings in a row, which is a QB record.
And price per head agents can see that oddly enough, Eli Manning is the one who has the biggest opportunity to beat the record held by Favre. The QB for the Giants was able to start in 155 consecutive meetings, and if Manning is able to pull thorough this season without any problems, he would make it to 166.
In order to beat Favre, Manning would have to play for eight more whole seasons and three additional meetings in a ninth season.
Regarding Peyton, Favre's very happy with his career, even though what he sees never seems to surprise him.
"It's amazing what he's done — but then again, it's not," said Favre. "I mean that with all due respect, because of his vigilance and determination. He just has the drive to excellence that has made him special. I'm not surprised by anything he does."