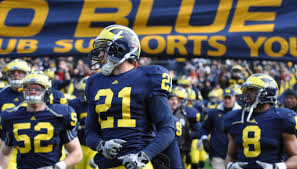 Brady Hoke, Michigan coach, doesn't seem to be bothered at all by the feelings of the team's fans. Many believe that he shouldn't be the one to lead the Wolverines, and pay per head agents can see how problematic this whole issue is proving to be.
The coach was jeered by fans, as they voiced their demands to fire both the coach and Dave Brandon, athletic director, after Minnesota beat Michigan on Saturday 30-14, in a loss that disappointed many fans.
After the game, Hoke said that he didn't hear any jeering while he was on the sidelines, and also said that it would not have affected him even if he did hear them.
"I didn't hear it. When you're in the moment, you really don't," he said.
"This is a big-boy business."
The Wolverines (2-3) are currently 1-8 in their last nine meetings with opponents from the Power 5 conference. The coach said that the team's goal to win a title in the Big Ten can still be reached, even though they ended up losing a five-game record as the season progresses.
"I think this team can still win a championship," the coach said. "I really do, but we've got to play much better and we have to support each other as we do it."
Earlier during the week, the coach said that it wouldn't be fair to the team's players if begins to think about his job security at this point of the season, saying that he has no time to think about this matter.
If Michigan decides to fire Hoke before January, the school would owe him $3 million. In his contract, the buyout falls in January 1st to $2 million. This last January, Hoke was paid a "stay bonus" of $1.5 million and during the four years that he spent with the program, the coach invested $12.26 million in himself.
Now many fans and pay per head agents would like to see what will happen with Hoke, and they do believe that he could be in trouble if the team continues their poor run of form.