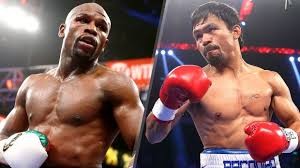 There will be 4 other men getting paid at the May 2nd Floyd Mayweather – Manny Pacquiao fight, other than the main contenders in the boxing odds. The veteran referee, Kenny Bayless, will be in the ring with the Champion Welterweights, along with 3 judges, just in case the fight goes the full 12 rounds.
Bayless, 64, has been in the ring for some of the biggest and top rated fights over his career, and next Saturday's fight will be no different. In fact, it may very well be the top grossing fight of all time, with estimated expectations of over $400 million in revenue.
The Nevada State Athletic Commission voted Bayless in with a 5-0 vote, beating 5 other possible licensed refs. He has been a referee for 5 of Mayweather's fights, including the previous two highest rated pay per view fights against Oscar De La Hoya in 2007 and Canelo Alvarez in 2013, so is accustomed to the scrutiny.
He also been the referee for 7 Pacquiao fights; Erik Morales II in 2006, Ricky Hatton and Miguel Cotto in 2009, Shane Mosley in 2011, Juan Manuel Marquez IV in 2012, and Timothy Bradley II in 2014.
Burt Clements and Dave Moretti, both of Las Vegas, and Glenn Feldman of Connecticut will be the judges for the fight, and will each get paid $20,000 for their work. Bayless will earn $25,000.
"We looked at a litany of judges from around the world and we narrowed it down," the NSAC executive director Bob Bennett, told the commission when he gave the recommendations.
Oddly enough the commission also approved Mayweather for a boxing license as he is now over the age of 35. Mayweather had to be questioned about his training, and his 2012 charge of domestic violence in which he served two months in jail.
Sportsbook software services report that the other fight on the card that night in the boxing odds will be between Vasyl Lomachenko against Gamalier Rodriguez. The referee for that fight will be Robert Byrd and the judges will be Jerry Roth and Patricia Morse Jarman, of Las Vegas, and John McKaie of New York.