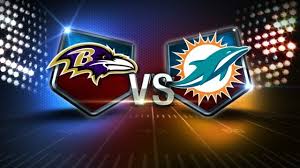 The Dolphins are 5-2 SU and ATS over the last seven meetings that they played, and the team is currently tied in the struggle to clinch the second position for the AFC Wild Card games. Having beaten the Jets on Monday, Miami are set to play at home on Sunday against the Ravens, with both teams being 7-5, in what bookmaker solutions services believe will be a very entertaining matchup.
The betting line opened with the Dolphins as the favorites by three points, and the total was 44.
On Sunday, Baltimore gave away a game when they faced San Diego as they let them score three TD's in the fourth quarter, in what was a loss of 34-33. Some doubtful penalties on defense were of no help at all, but that was still a meeting that should have been won by the Ravens.
Baltimore were leading all the way, and were able to outrush the Chargers at 125-64, as for the third game in a row Justin Forsett recorded 100 yards, but Philip Rivers proved to be too much for the player. The Ravens are now in fourth place in the league against the run, and fifth place when it comes to rushing.
Then Baltimore beat Miami last season 26-23 when both sides faced each other in South Florida, and the Dolphins were outrushed 133-22.
On Monday night, Miami were able to avoid suffering a very ugly loss when they rallied to take out the Jets 16-13 in New Jersey. As the game moved to the fourth quarter, Miami were behind 13-6, but they ended up scoring the game's final 10 points, and finished off the win thanks to an interception as the Jets were trying to drive with a minute remaining in the meeting.
That very close win was quite welcome after they suffered that nasty defeat two weeks ago to the Broncos, and Miami took out the Bills – another 7-5 team – just before this. In their total offense, the Dolphins only have a 19th placed ranking, but they also have 6th place in total defense, and in rushing they're 10th.
Many experts believe that last week, Baltimore should have been the ones to clinch the victory, while Miami should have probably been beaten. The NFL can be pretty unpredictable, but bookmaker solutions services think that the Ravens should be the ones to go for in this upcoming matchup.
More NFL News: 
Aaron Rodgers believes that this Packers team could be bound for greatness
Sportsbook Software: The Colts should handle the Browns' defense
Week 14: Chicago Bears vs. Dallas Cowboys
Jim Harbaugh isn't concerned about what the future has in store for him