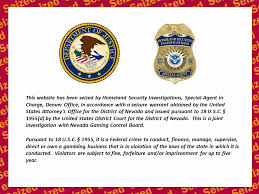 The only thing that's for sure in life is death and taxes.
Many have been brought down by the IRS, the United States' Internal Revenue Service, for failing to pay taxes on money that was not declared on the yearly tax return. In fact the US government has often found itself in a corner when trying to convict mobsters on murder and racketeering, but taxes was an easy in.
On Wednesday, the IRS got another man when Tony Chau, founder of sportsbettingchamp.com and the author of Exterminator Sports Betting System plead guilty to tax evasion and money laundering by using a bookmaker software to earn money.
I'm not sure if the book was a top seller, but what got him into trouble was being an affiliate with offshore sports betting sites, earning a percentage of player losses.
This type of affiliate has been around the since the dawn of the internet sportsbook, and in the early days many sites were dedicated to sending traffic their way.
There are perfectly legal ways of being an affiliate in Nevada, helping customers find quality bookmaker software providers within the state. (and under the watchful eye of the Nevada Gaming Commission, who hands out said licenses)
Unfortunately for Chau, he started his affiliation in Massachusetts (before moving to Nevada), and funneled traffic to bookmaker software providers in Costa Rica and Panama. He then earned profits from players' losses and instead of having the money sent to his bank account in Nevada, he sent it to various offshore banks, which shielded his earnings from the US government.
So all in all, Chau got sent up the river for running an illegal gambling operation, (yup, he was earning money from players' losses) and most importantly, from hiding his, wait for it, 1.5 million dollars in earnings, over a period from 2007 to 2011.
With that much in earning, Chau should have been working for any kind of legal promotion, as apparently he was quite good at it. I have heard of people making a few hundred from affiliate relationships, but 1.5 million takes the cake.
Poor Chau agreed to pay his $567,571.tax bill, and forfeit $1.4 million in cash. Again, Chau was smart enough to have found a great paying job, but just gave the government all of his earnings.
They say crime doesn't pay, but I'm sure it was the US government saying that. It pays them just fine.