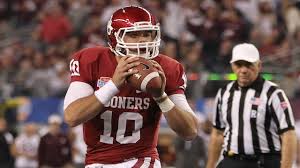 Blake Bell, former starting quarterback for Oklahoma, will now start at tight end for the Sooners, in what many football betting fans believe is a very good move by the team.
Monday's depth chart showed that Taylor McNamara was beaten at tight end by a 260-pound, 6-foot-6 Bell. The player started under center in eight games last season, and before spring he changed positions with the appearance of Trevor Knight.
"Blake, he's been really solid," coach Bob Stoops said. "He loves doing it. He's really a big a target, a comfortable target for Trevor or any quarterback when in the middle of the field. He's got great hands.
"The different lifting and training from a quarterback to a tight end has helped him get stronger and bigger, so the blocking has been solid, and I think that's something that as we go through the year that will improve the more he's on the field and the more opportunities he gets."
Even though Bell was mostly working in practice at the tight end position, he had some chances to play as a quarterback. Cody Thomas was put on the list as the Sooners' second-team QB, but the coach believes that "it never hurts to have an emergency plan."
"Once you know the entire offense, you know it," he said. "He's handled it quite well."
The coach also said that Oklahoma would still keep the player in the team's offensive playbook, and many experts believe that he should definitely stay there. Football betting fans were very impressed to see that when he was a freshman and a sophomore, Bell was able to score 25 touchdowns while working the short-yards from behind the center.
"It wouldn't be a Wildcat-type package since he can throw pretty well," Stoops said. "Those other running backs they usually put back there usually couldn't throw a grenade in a tub.
"So Blake, we wouldn't have any problem if we wanted to give him a shot at something back there."
Oklahoma's fans can see how much versatility Bell has in the game, and expect to see great performances by the player when the season begins – and it's almost here.