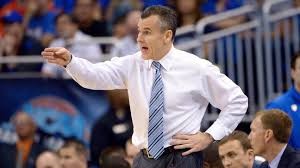 There is growing sentiment that Florida Gators College Basketball head coach Billy Donovan is listening to offers from the NBA. This is the second time Donovan and the National basketball Association tango, and it might be the last time we see Donovan manning the sidelines for the gators anytime soon. Donovan is drawing interest from multiple teams and prepared to take someone up on their offer, after the Gators endured a 16-17 season in which they failed to make to the postseason for just the second time in Donovan's nearly two decades in Gainesville.
Donovan agreed to an extension throughout the 2020 season, but according to multiple sources it has a $500,000 buyout if an NBA opportunity arises. Two teams on the radar are the Minnesota Timberwolves and Cleveland cavaliers, yes you heard it the Cleveland Cavaliers. They are willing to make the move if the timing is right. They are having a somewhat successful season with first year head coach David Blatt, but there has been murmur of discordia within the team.
One of Donovan's closest friends and most trusted advisers is Louisville coach Rick Pitino. He is not in favor of a college coaches making the jump unless they've really looked into it. This is such the case for Donovan. He has been itching to get into the NBA and the writing might be on the wall. This might be the best time to do such a jump.
The Denver Nuggets and Orlando Magic are the only teams with interim head coaches and it is presumed they will have Donovan on their short list of coaches. The links between the Donovan and the Orlando magic are inevitable because of there earlier so called arrangement before Donovan got cold feet and backed out of the situation. Donovan had to agree to a noncompete clause spanning five years in exchange for being released from his contract with the Magic.
Billy has the pizzazz that any NBA team would love to have on the sidelines for their respective franchise. Donovan, who turns 50 on May 30, has a 467-186 record with the Florida Gators and won back- to-back national championships in 2005 and '06. This season was the first season since 1998 where the Florida Gators didn't participate in post season play.
Pay per head agents has no odds for the Orlando Magic as they are virtually out of any possibility to win the chip. Hopefully Billy can help that out next year, if they're lucky enough to get him.