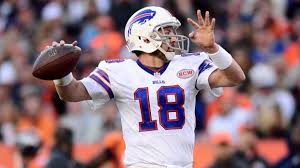 On Monday, Bills QB Kyle Orton spoke about his decision to retire from the sport after being in the NFL for ten seasons. Price per head agents and fans alike know that he was playing in the league for a long time, but many were not expecting the player to retire from the game just yet.
This season, a 32-year-old Orton went 7-5 as Buffalo's starter after Week 5 of the regular season, when he took the place of QB EJ Manuel.
"I just have been going at it for 10 years and it's just a family decision and I've decided to get home and be a dad and call it a day," he said.
Some players at Buffalo were surprised by his decision, and so were many fans.
"It's one of those things, in talking to him, I didn't expect him to announce it so soon, or to announce it at all," said RB Fred Jackson.
"I'll kind of pick his brain and see what made him decide to do so, but you got to respect it."
NFL fans were impressed when they saw that in 2014, Orton, who in August signed a deal of two years, was able to complete 64.2% of the passes that he made for 3,018 yards, which would be his career's third passing season of 3,000 yards.
As the player retires from the NFL, Buffalo are set to move into their offseason with the services of QB's EJ Manuel and Jeff Tuel, whose season on the team's practice squad came to an end.
"It's one of those things where everything is going to be evaluated in the offseason anyway," said Jackson. "I can't say that it's a setback. I can't say that it helps us."
Besides the time that he spent with Buffalo, Orton had spells with the Cowboys, Chiefs, Broncos and Bears since 2005, when the player joined the ranks of the NFL, and many fans know what a valuable asset he was in the league throughout his career.
Many Bills fans were shocked to learn that the player will part ways with the team, but can fully understand why he wants to leave the NFL and start a new life – after all he did play in the league for a decade, and pay per head agents saw that he made great contributions to the sport as a whole throughout the years.