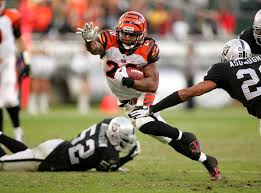 The 2015 Cincinnati Bengals might just be one of the more talented and deepest teams in the NFL this season. They are extremely talented and resourceful, but the only reason they have not been to the Super Bowl is because of how they are not able to handle the pressure of the post season. They remain a talented team and many bookie services as dark horses that could bring some surprises this season. Their first game of the season will have them face the revamped Oakland Raiders. A team that is looking to turn things around and finally start winning games.
The Raiders offense looks very promising this season. Their Quarterback Derek Carr is very talented and last year, with all the limitations that the Raiders had, put on some pretty impressive numbers. This year he will have some assistance in Amari Cooper and Michael Crabtree as receivers. Furthermore, the Raiders will also have some great offensive help from Latavius Murray in the Running Back position. On paper, bookie services will hold the Raiders to be one of possible breakout teams of the season, but still they have a lot to prove this season, and they begin their journey against a very talented Bengals team.
It seems that the Bengals will be a team that will be focused on giving the ball to Jeremy Hill and Giovanni Bernard. Perhaps the possible "weakness" of the Bengals offense falls on the Quarterback position. Andy Dalton has been very inconsistent, but the team management has a lot of confidence in him and they are hoping that this year he will be able to connect with WR A.J. Green, who in his own right is one of the best receivers in professional football. Bookie Services and online sportsbooks don't hold Dalton very high on the top QB list. If the Raiders wish to win this game they will need to focus on neutralizing the Bengals running game and force Dalton to throw the ball.
In the end this game and how it will play out will depend a lot on just how well the Bengals run the ball and how will the Raiders defense stop them. The Bengals are three point favorites, and they just might be able to pull off the game. But perhaps the surprising factor in this game for per head sportsbook users will be the battle between the Bengals secondary and Amari Cooper. There the raiders can and will make a difference. The Raiders will pull a close upset 28 to 24.