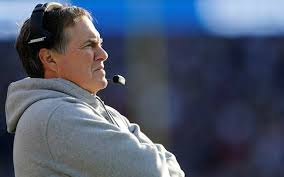 Bill Belichick, Patriots coach, does not see any weaknesses when it comes to Colts QB Andrew Luck, and neither do online bookmakers.
"He's got a lot of strengths, no weaknesses," said Belichick.
"He's got a great future in front of him. He's already done a lot in the time that he's been in the league, and I'm sure by the time he gets done he can pass a lot of guys by."
Luck beat Broncos QB Peyton Manning in the divisional round of the AFC, the league's only other QB this season to get such good compliments from the Patriots coach, setting up a matchup with QB Tom Brady. With 1,703 yards, Luck was already able to record the most passing yards made by a QB in his initial five meetings of the postseason.
When Luck joined the ranks of the NFL in 2012's draft as the number 1 overall pick, Belichick said that he was a very good player. However, now the coach saw that he improved, and sees an even better player who can pose a real threat to the teams that he faces, particularly with his ability to not be brought down.
"Luck's hard to bring down," said Belichick. "He runs very well. He's athletic. He can get outside and make yards with his legs. They also use him on some keep-type plays, you know, the one he scored on for example in the Denver game last week."
The coach said that it's more difficult to bring Luck down than QB Ben Roethlisberger of the Steelers.
"He's strong, he's strong in the pocket, he's got good lower-body strength," said Belichick. "He's got strong legs. Hard to wrap up a lot of times, he's got guys draped all over him and he can throw the ball."
The strength that he has in the game while running led Belichick to say that the player is a "sixth receiver in the passing game" because he always has to be taken into account.
"[Luck's] a really dangerous guy, tough guy to handle," said Belichick. "Great quarterback."
In Week 11, New England pounded Indianapolis 42-20, but Belichick and online bookmakers can see that this weekend the Patriots have a very big task ahead.
"We have a tremendous amount of respect for our opponents," said Belichick. "This is the toughest team that we played all year. The Colts are a very good football team.
"Well coached, good fundamentals. Offensively they're as explosive as it gets. They've got so many big-play guys. It starts with Luck, and they've got a great receiving corps. They run the ball well. They're consistent. They've got productive players at tight end, receiver, running back, quarterback. A lot to defend.
"Again, as explosive a team as there is in the league, both in the regular season and the postseason. Very consistent making big plays from everywhere by everybody. This will be a big challenge for us this week, all the things we have to deal with."