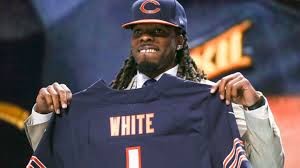 Rookie Chicago Bears receiver Kevin White will have surgery on a stress fracture to his left shin, Ryan Pace Bears general manager expressed Saturday. This means the Rookie will start the season on the physically unable to perform list. This means he will be sidelined for at least 6 games, after 6 games the Bears have until after the 11th game to activate him. Pace said its possible White misses the entire season. The Bears have odds of 60/1 at Pay Per Head Sportsbook.
"He'll convert from active PUP to reserve PUP and then that gives us the option to bring him up in the latter part of the season," Pace said. "Guys, honestly, are there a chance that he misses the season? That's a possibility. I want to make sure we do this the right way, not rush him back. Sometimes I feel like you have to protect them from themselves."
There is no date yet for Whites surgery. "He's emotional," Pace said of White. "I know he sincerely cares about this organization, about his teammates, about Coach (John) Fox. It's from the bottom of his heart, and that's why, to me — and I know, this is kind of a weird time to say this — but man, I'm telling you, that guy, it's confirmed to me the type of person he is, through this process."
White had been doing pool exercises until Monday when the team allowed him to lightly run on a side field during practice. "There was a setback," Fox said Saturday. "He looked pretty hopeful the first day (Monday) running on grass but not so much the second day. He's going to be a heck of a football player. He's a great young man. It's unfortunate it happened in the OTAs. We thought the rest might get it better but unfortunately it didn't. We need to fix it long-term and get him ready to play his NFL career."
White's shin had been bothering him since the final week of organized team activities.
"We were being very cautious," Pace said. "This guy's a big commodity for us. To me, it was kind of black and white. If he's having no pain, let's go, let's build him up slowly. Any type of setback, let's do the right thing, here. To me, hey, it's unfortunate, but there's clarity in this is the surgery that he needs to have. It'll be successful."