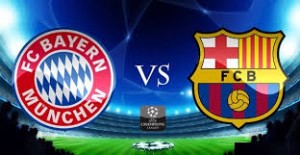 The second leg match between F.C. Barcelona and Bayern Munich will take place Tuesday on German ground, in one of the most beautiful and modern stadiums the Allianz Arena with a capacity of over 71,000 fans that will be supporting and chanting as a 12th man on the pitch for the home team.
Bayern Munich will try to overcome a 3-0 deficit from last's week Barcelona match when they fell apart on the last 15 minutes of the match with Lionel Messi scoring the first goal of the match on the 76th minute and his second personal goal on the 80th minute on a superb dribble leaving Jerome Boateng lost on his footing, location and whereabouts of his hip and limbs, Lionel Messi dismembered Jerome Boateng with a single move and dinked the ball with his right foot over the best goalkeeper in the world for the second of the night. The 2-0 score is one of the trickiest scores on soccer as it could be easily washed away on a blink of an eye, with this in mind Bayern Munich kept attacking looking for their first goal of the match and the possible qualifier as an away goal is "worth two goals" in the event of a tie in the overall score.
Price per head agents and pay per head agents are currently offering the match with Barcelona 8/5 the Draw for the match 13/5 and the Bayern Munich 6/4, the Odds to advance to the Final have Bayern Munich 12/1 and Barcelona 1/50. Another popular prop is the method of Victory Bayern Munich in extra time 120/1, Barcelona in Extra time 80/1, Will there be extra time 50/1, Bayern Munich on Penalties 200/1, Barcelona on Penalties 200/1, Will there be Penalties 100/1.
Bayern Munich is experiencing one of their worst streaks with 4 loses is a row and will be without their star wingers Franck Ribery and Arjen Robben both out for the season and Barcelona has eight straight wins and is at full strength with all it's stars for this matchup. Bayern's coach Guardiola rested four starting players this weekend and its counter Barcelona coach Luis Enrique rested 5 players this weekend both coaches are focused on having their key players rested and physically at a 100% for the second leg of this epic match.