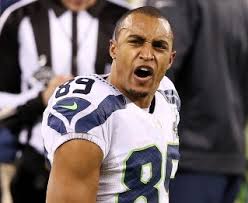 WR Doug Baldwin – well known with local bookies for his temper – said that Friday's trade involving Percy Harvin led to the Seahawks' bad start that ended up with them losing to the Rams 28-26 on Sunday.
"Obviously the shock of the transaction and what took place there made for a bit of an emotional roller coaster," said Baldwin.
"When something that drastic happens, right before we get on the bus [to go to the airport for the trip], there is going to be an emotional impact. I felt we handled it to the best of our ability, but I think it might have been a factor in some way."
Seattle was trailing 21-3, and at halftime they were behind 21-6 before the second half, when the score looked closer.
"There's obviously a lot of things that went on this week that affected the team in numerous ways," said Baldwin. "As a competitor, you don't want to admit those things. But as a human, it is human nature. It took us a little while to get on track. I'm just proud we responded the way we did and fought until the very end."
The player also admitted that in the preseason he had a physical scuffle with Harvin.
"It is true," said Baldwin. "However, when you deal with somebody 12-to-14 hours a day, you are going to have issues and conflict, just like any family."
Baldwin was also asked about the other altercations that Harvin reportedly had at the Super Bowl with Golden Tate, former WR for the Seahawks, and one that he reportedly had last week with QB Russell Wilson.
"I mean, you guys read the reports," said Baldwin. "I don't think I need to say anything else about it."
Last week, Baldwin was pretty disappointed after losing, as he said, "We need to quit BS-ing ourselves and get serious."
Local bookies saw that earlier in the week, the player said that his teammates are aware of him speaking with resolve, and he supports what he has to say. On Sunday, the player had his season's best game so far, with seven receptions made for 123 yards, which include a TD catch for 9 yards.
"I don't really believe in moral victories, but we got back to who we were as an offense," said Baldwin. "We have a lot of things to clean up, but there are a lot of positives we can take out of this game.
"Offensively we got back to what we do. It's completely different than last week [the 30-23 loss to the Dallas Cowboys]. I felt we didn't have any growth. This game we could feel the growth in our offense."