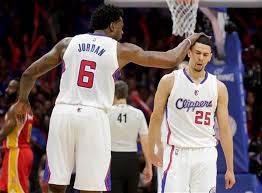 While Austin Rivers was running ramped through the Rockets, Chris Paul walked up to Doc Rivers and said, "This is one time you can be a dad and not just coach."
Pay Per Head Solutions and Sportsbook Software have the Clippers odds to win at 5/1 and have jumped in to the top three to win it all.
Doc Rivers was locked into the action on an emotional level watching his son score career playoff-high 25 points while the spark in the third quarter. It's too fresh to allow it sink in because the most important thing was to get the win and go up 2-1 in the series against the Houston Rockets.
"Even when C.P. said that, it was like white noise to me," the elder Rivers said. "He was just very aggressive, and that's what we've been telling him to do. The scoring and all that was great. We love it. But the big picture was we allowed C.P. to get back in this series, feel comfortable and not overextend himself."
Paul had sat out the first two games of the series with a pulled hamstring to chip in 12 points and seven assists. J.J. Redick was extremely excited to get his backcourt buddy back and exploded for 31 points. Blake Griffin kept on doing his thing with 22 points and 14 rebound and last but not least DeAndre Jordan came away with 15 boards.
"I got through," Paul said. "Austin was unbelievable. I was probably his biggest cheerleader in the third quarter. I just kept saying, 'I don't want to play anymore if I don't have to."
James Harden had 25 points and 11 assist for the Rockets and Dwight Howard added 14 points and 14 boards. "It was a blowout, but it's still one game," Harden said. Game 4 is setup for Sunday at the Staple Center.
Austin Rivers came off the bench and helped the Clippers to a 20-3 run that gave the Clippers breathing room in game 3. Rivers notched 15 points on 6-8 shooting in an outburst that extended the lead 99-76 going into the fourth. Rivers played so well that Coach Doc Rivers left him in 2 minutes into the 4 quarter. "Our relationship has always been coach-player," Austin Rivers said.
"He's hard on me, but it's because he wants the best for me." They have a great chance to advance but most hold court in game 4 to take a commanding 3-1 lead going back to Houston.