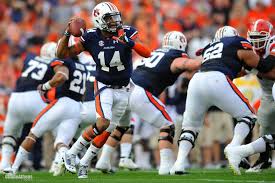 Auburn are 4-0 ATS in their last games on the road, and were able to reward their Live betting fans in 13 games in a row, while Kansas State are 0-3 ATS in their last games played at home.
So in Manhattan, Auburn will try to make it into a 14-game winning streak, while on Thursday night Kansas State will try to do everything they can to prevail in this upcoming SEC-Big 12 showdown.
Many sportsbooks software solutions providers opened Auburn's point spread at Snyder Family Stadium as the favorites by 6.5 points.
The Auburn Tigers are currently 2-0 both ATS and straight up after they were able to take out the Arkansas Razorbacks 45-21 as well as the San Jose State Spartans 59-13. The Tigers amassed up to 595 yards when they faced the Razorbacks and were the favorites by 17 points as they burst for the cover, then they were able to put by halftime 38 while moving to cover as the 33-point favorites over San Jose State.
Through Auburn's first two games, the team had an average of 330 ground yards. The Tigers were also able to show that they can play a bit of defense during the second half when the team didn't let the Razorbacks score.
All that the Tigers seem to be able to do is cover the spread, and a manageable spread along with their 13-0 ATS run make them a very interesting team to go for.
Now, regarding the Wildcats, the team is 2-0 SU, but they're 0-2 ATS after they beat the Stephen Austin Lumberjacks and the Iowa State Cyclones. The Wildcats dominated their opener with the Lumberjacks, outrushing the team 240-69, but were still not able to cover the spread.
The Wildcats then ended up beating the Cyclones 32-28, and were able to outrush them 232-105 and outgain them 471-319. But on a punt return, a score was given up by Kansas State, and on two-point conversions the team went 0-for-2. Kansas State would have covered without the punt return and a conversion made.
Kansas State are not often considered to be the underdogs at home, but many fans know that they're a very dangerous force to reckon with when they are.
Under coach Gus Malzahn, the Tigers are 14-2 both ATS and SU and, but this is a very difficult matchup, as they go on the non-conference road to play a team that that has an excellent coaching staff and can almost do whatever they want on the field.
Many Live betting fans believe that even though Auburn might be talented, the home favorites should be the ones to be picked.