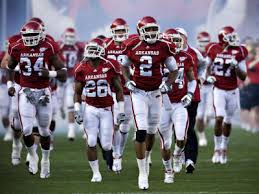 The Razorback's coaches don't believe that being trapped in an elevator at halftime in Arkansas' loss to Auburn on Saturday was the reason for the team's bad performance during the second half, but many football betting fans disagree, and think that this could have played at least a small role in the team's loss.
At halftime, after Auburn and Arkansas players went to the locker rooms being tied 21-21, Razorback fans were shaking their heads in disappointment when they saw that the Tigers owned second half, as Auburn ended up outscoring Arkansas 24-0 for the rest of the game.
"It wasn't that big a deal when we finally got out," said Jim Chaney, Arkansas offensive coordinator.
"I got to be able to communicate with the coaches down at halftime in the locker room. So it had no bearing on the outcome of that football game."
Coaches Randy Shannon, Clay Jennings, Barry Lunney Jr, and Chaney, all used text messages so they could talk to the players in the locker room, and many of the team's fans wonder how much this helped – if at all.
"It is what it is," said Bret Bielema. "We had to roll with the flow. Obviously I have coaches up in the booth who look forward to coming down here and meeting as a staff and get on the same page. We were able to communicate by phone.
"I'm not trying to make a big deal out of it, they just weren't able to get down there. I don't have the full story on it, I just know they were actually stuck."
Football betting fans learned that in the fourth quarter, the coaches all used another elevator to make it to the locker room during the lightning delay that saw the game being set back for almost an hour and a half – to the frustration of many people watching the game – but there wasn't much that could be done by then as the Tigers were already ahead with a lead of 38-21.
Perhaps it is time for the NCAA to tell the coaches to use the stairs instead, especially when there's bad weather involved