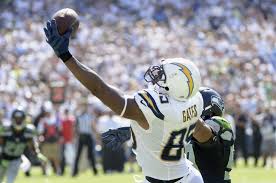 Pay Per Head Software sources report that the NFL announced on Thursday that San Diego Chargers tight end Antonio Gates has been suspended without pay for the first three games of the season for violating the NFL's policy on performance-enhancing substance.
Gates will be eligible to return to an active roster on Monday on October 4th against the Cleveland Browns.
In a statement released by the team, Gates said he did not knowingly take a banned substance but he will accept the consequences.
"I take full responsibility for my actions," Gates said. "I'd like to express my sincere apologies to the Chargers, my teammates, coaches, fans and the league who have always supported me and expected and gotten nothing but the highest level of integrity from me."
Gates is not expected to appeal his suspension. Gates, 35 was scheduled to make $5.9 million I total compensation. He will miss out on nearly $350,000 per per head sources.
"In my 12 years in the NFL, I have taken tremendous pride in upholding the integrity of the NFL shield and all that it entails," Gates said. "I have taken extreme care of my body with a holistic approach and never taken any substance that was illegal or banned by the NFL."
"In an effort to recover from a long season and although I was unaware at the time, I regret to confirm that I tested positive for a substance that is currently on the NFL banned substance list."
"As an NFL veteran and team leader, I should have done my due diligence to ensure that what I was taking for recovery was within the NFL guidelines. I have always believed that ignorance is no excuse when it comes to these issues, and I take full responsibility for my actions."
With Gates out for the first four games of the regular season, the San Diego Chargers will have to lean on Ladarius Green to shoulder most of the load as the team's starting tight end. Like Gates, Green is going to be entering the final year of his contract and he is scheduled to make $660,000 in 2015.
Philip Rivers will be missing a crucial end zone target to his arsenal, and I'm pretty sure not the news he wanted to hear to start of a very important season for him and the San Diego Chargers.