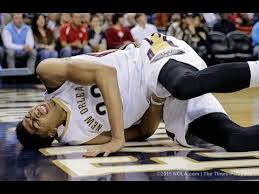 Anthony Davis, power forward and center for the Pelicans who's a big favorite with pay per head services, suffered a sprain on his right shoulder when his team was defeated 107-72 on Saturday night by the Bulls.
The player fell hard on the floor, and he tried to brace himself after a slam dunk late in the first half of the game, and was out of the game after this.
He suffered a contusion on his right shoulder, and the X-rays came out negative.
"When he goes down like that, your first inclination is to get him out," said Monty Williams, coach for the Pelicans. "When a guy hits the floor that hard, you feel bad for him."
Davis had is arm in a sling when the game was over.
"He says he's a bit sore right now. He couldn't move his arm the way he needed to, so we got him out," Williams said. "He kept saying he was OK … but the doctors didn't feel good about getting him back out, so we've got to get more evaluation and we'll have a better update [Sunday]."
However, it was recently revealed to be a shoulder sprain
Davis was in the game shortly before he left with 4:16 remaining in the game's first half, and the score was at a tie of 35.
The Bulls then took over the game after he pulled out, something that clearly shows his impact that the player has with the Pelicans, and pay per head services saw that even Pau Gasol shared his thoughts on this.
"Anthony's a player that makes a big difference, so it was a tough hit for them to take," said Gasol.
"We knew that we just had to stay at it and be aggressive on both ends of the floor and that's what we did."
When Davis left the meeting, it happened one night after he scored a 3-pointer that beat the buzzer, seeing New Orleans defeat Oklahoma City 116-113.
"We've played without him, so we know how to play without him. We just have to make the adjustment on the fly," forward Dante Cunningham told reporters. "I think we didn't do it tonight, but we definitely know how to play without him. We had a couple games when he was hurt, so we just have to do it on the fly, I guess."