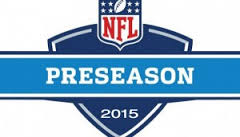 The first impression is always a lasting one, as the first week of NFL games comes to a close there are many different important takeaways that any online football betting fan needs to take into consideration. Facts that come as important information when it comes to judging your next play. The best price per head agents have taken notice of the following facts and it will result on how it affects how their pay per head sportsbook software displays the lines for the future preseason games.
Those who were watching the Lions game, left the game with an overall positive first impression with rookie Ameer Abdullah and the rest of the Lion's offense. The depth chart for the Lions offense is looking pretty good coming into this season and the fans are starting to look really optimistic for their chances of making this year's playoffs. Also, that very same game displayed that the Jets defense is still a work in progress. Their investment to solidify their defense as a strong point is not showing at this moment.
Another team that was showing a good offense was the Baltimore Ravens. It seem that offensive's coach Marc Trestman's approach of the game appears to be a good fit for the Ravens. That first game was good cohesive display of football that the Ravens were able to sustain for the entire game. It will be interesting to see if they manage to keep this up and improve as we draw closer to the start of the regular season.
The New York Giants are having trouble on their offense, their starters where simply no match for the Bengals on Thursday. Eli Manning looked completely out of the game and out of rhythm for the time he was on the field. For a lot of experts, the performance displayed by the Giants offense was perhaps the biggest disappointment of the first week of preseason, one that will have certainly caught the attention of the best price per head agents in the pay per head sportsbook industry.
Finally, the Packers are off to a good start. They managed to beat the Patriots at Foxborough (granted, the Pats were trying out their backup QB) and they looked solid on a game that saw them beat the current World Champions. At this time, the Green Bay were perhaps the team that is coming out during this first week of preseason looking the strongest.