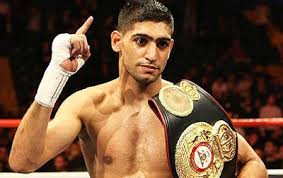 Amir Khan said that his clash with Devon Alexander on December 13 in Las Vegas will be able to send him to the "next level" and let him take on Manny Pacquiao or Floyd Mayweather. Pay per head services know that this is a very important meeting for the Bolton fighter, and can't wait to see what will happen in the ring when this clash gets underway.
But the fighter believes that this step is a very necessary one before he enters the ring to take on one of top men of the sport.
"This is a fight I need to get me to the next level," said Khan. "The big fights are there for me. I'm at that age now, at my peak, where I'm ready for those big fights. My name is getting mentioned alongside Mayweather and Pacquiao. Look, this fight can lead to one of those big fights and it's about time we got that in.
"[Alexander and I] have got a very similar style because he's quick as well. I think when it comes down to skills, my skills are a little better than Devon's but he's still a very skilful fighter. He's been in with Lucas Matthysse and Marcos Maidana and beaten a lot of big names – his last fight he beat Jesús Soto Karass.
"We've been working very hard, I've been in training camp for 11 or 12 weeks in San Francisco, away from my family and friends. I've been focusing on what I need to do and I'm looking forward to fighting at the MGM."
Khan was also very happy about being in the spotlight in Las Vegas, and so are his fans.
"Topping the bill at the MGM has always been my dream," he added.
"Fighting in Vegas was my dream, but then it was the top the bill at the MGM. I'm the main star going there – normally you get Floyd Mayweather at the MGM but now it's Amir Khan going there.
"I've heard from a lot of people on Twitter saying 'we've been to Vegas and saw your picture all over the place'. It makes me happy because that was my dream when I started boxing, having my name and my picture on the strip in Vegas.
"It's great that I'm back on Sky again, it gives my viewers the chance to see me fight again."
Khan's fans are confident that their fighter will come out on top in this showdown, and pay per head services believe that this meeting is one not to be missed.