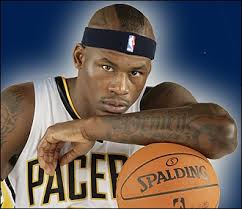 Al Harrington, Indiana Pacers first round draft pick in 1998, retired Wednesday after 16 seasons in the NBA. Al Harrington played for 7 teams in his tenure. Those 7 teams are the Indiana Pacers, Atlanta Hawks, Golden State Warriors, New York Knicks, Denver Nuggets, Orlando Magic, Washington Wizards and a stint in Chinese Basketball Association for the Fujian Sturgeons. He averaged 13.5 points 5.6 rebounds a game.
I guess you can say Al Harrington was a stretch 4 before a stretch 4 was a thing. He's a kid from Orange, New Jersey. He spent some of his childhood in Roselle, New Jersey and played his high school basketball at St. Patrick High School in Elizabeth, New Jersey. He was named as the USA Today's National Player of the Year as well as the 1998 McDonald's High School All-American after his last year at the high school level.
This kid came straight out of high school to the NBA. He did not have the allure of maybe a Kevin Garnett, and I don't think many price per head agents would mind if more kids like Al declared early, even though those days are gone. I'm not so sure making a kid stay is important or not. If he's ready he's ready if he's not let him live with the consequences.
This is what Harrington said "I'm officially retired," Harrington said. "I don't know if there's paperwork that I gotta fill out or anything. But my career is over."
"I'm very happy with what I was able to accomplish," Harrington told the Denver Post after helping during a Nuggets practice. "I was able to change a lot of people's lives in my family, including myself, in a game that I eventually fell in love with and will always be in love with. And hopefully, I can stay around the game until I die.
"It was a fun ride. It went by fast, too. It was like one minute I was 18, the next I was 25, then was 30 and now I'm 35. It was a fun run. Met a lot of great people."
His best years were with the Pacers. Everyone can agree even though his best numbers came as a member of the New York Knicks. There he played for Mike D'Antoni and his 7 seconds or less offense that could of heightened the numbers a tad. He learned to shoot the three and that was enough to keep him around for 16 years. Congrats Al you should be happy of what you accomplished.