Our Agent Administrator exceeds all customer expectations with its range of reports and features, and we continually strive to give our customers what they want by listening to their requests.
We have created an easy to use command center for anyone wanting complete control of their sportsbook, large or small, and we know that these additional features make the difference in choosing the most comprehensive service.
We are unique in the fact that we have a team of programmers on site, every day, who are able to fulfill the needs of customers, and make the updates necessary to help us maintain our lead in the industry along with the best customer experience.
With all the tools you need to manage your sportsbook, and your own private internal mail system, IDS will be all that you need to create the most profitable business, while maintaining everything in a safe, secure, environment.
Agent Administrator features include a player list that also acts as a full control system for activity and limits, A massive action suite can control all or a select group of players for instant changes to every wager type, all with a simple click.
To compliment this full range of tools and features, Agent Administrator includes LiveChat to communicate with the Customer Service team directly in real time, making outside programs or devices, redundant and unnecessary.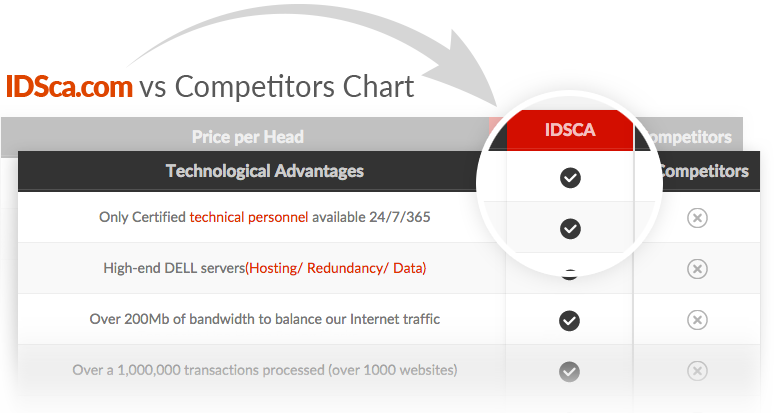 Price per Head Information Section
In the section you'll have access to read in more detail all about what differentiates IDSca.com from the competition such as sample betting sites, videos and articles related to the general gambling industry…read more
Price per Head Loyalty Programs
Here you'll be able learn more information regarding IDSca.com Referral and Master Agent Programs…read more
Current Promotions
We highly recommend checking this section frequently to access new and upcoming promos…read more
Software Gallery & Demos
Test drive our Premium Services, Race Tracks and the Virtual Games software…read more