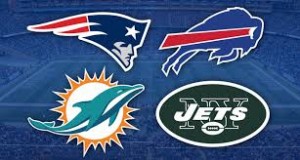 The AFC East has been long dominated by the New England Patriots, and as always is the odds on favorite with pay per head software, but a suspension due to deflategate may slow down the infallible Tom Brady.
Miami Dolphins – the team landed free agent Ndamukong Suh, but due to his large contract, coach Joe Philbin will have some work to do moving around the salary cap. Let's face it, wide receiver Mike Wallace may be the next to be released because of his salary and attitude. A nice 14th draft pick could easily net the team a Wallace replacement, and a little breathing room.
New York Jets – the Jets have the hardest battle in the AFC East odds, and they have already gone to town updating their roster. The likely release of Percy Harvin gives the team quite a bit (50 million) to use to obtain some invigorated players. Free agent QB Michael Vick has been speaking highly of his fellow teammates, and admits that he wants to keep playing, but it is likely the end for the 13 year veteran.
Buffalo Bills – the new Buffalo coach, Rex Ryan, has been delivered an excellent defense, and thankfully general manager Doug Whaley has added some great offense with RB LeSean McCoy, QB Matt Cassel and G Richie Incognito, and pass rusher Jerry Hughes has re-signed with the team as of Monday. Likely the Bills will be picking up a few linebackers for what Ryan likes to refer to as the "ground and pound" offense.
New England Patriots – the Pats have owned the AFC East for past 12 out of 13 years, and even though we're not sure if quarterback Tom Brady will be playing the first 4 games, it's still a great team to win. In order to keep on top they have a few free agents up for grabs, helping to give them more money to obtain a few key players. Pay per head software has the Patriots listed at -150, or a bettor would have to risk 150 to get 100.
Odds to Win the AFC East:
New England Patriots -150
Miami Dolphins +400
Buffalo Bills +425
New York Jets +750