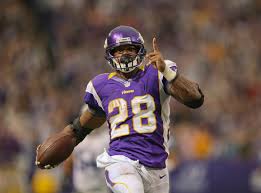 There has been a lot of speculation in the past weeks as to where running back Adrian Peterson of the Minnesota Vikings will go for the 2015-2016 NFL season.
Peterson's agent Ben Dogra said that he was told of the Vikings' decision to not release the running back, by general manager Rick Spielman over the phone on Wednesday.
Price per head sportsbooks had long hoped Peterson would remain with the Vikings as he under contract for the next three seasons, with $12.75 million this season alone.
Last year Peterson was previously suspended for the 2014 season due to legal issues, when he plead no contest to a misdemeanor offense of reckless assault.
The Minnesota Vikings are hoping to use the skills of the superstar running back to improve their position in the NFC North after finishing with a 7-9-0 record last year. (Funnily enough when they did have him in the 2013 season they finished 5-10-1)
Despite Peterson's contract, the gossip about where he would end up made it sound like he was a free agent, which is obviously not the case. Under contract Peterson can only wait for his team;s decision on staying, and now after Wednesday's confirmation, Peterson will be there for the Vikings once again.
After his meeting last week with the team he said in a statement given to ESPN, "I appreciate Rick [Spielman] and Coach [Mike] Zimmer coming down to see me today. We had a great dialogue and they were able to understand where I was coming from and concerns my family and I still have. We respect each other and hopefully the situation can pan out so that everyone involved is content,"
Rick Spielman has said all along that he'd expected Peterson to be playing for the team again this year.
"I think our whole organization is on that same page [about wanting Peterson back]," Spielman said. "What team wouldn't want an Adrian Peterson talent? He's unique player that you don't see come around too often and Adrian's been a key part of our organization."
Price per head sportsbooks are getting ready to put up the 2015-2016 NFL season odds to win, and now know what to expect for the Vikings.