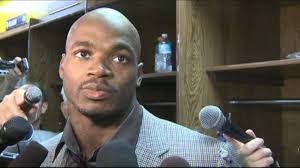 Adrian Peterson has been silent as of late, but finally on Wednesday he released a statement to ESPN's Josina Anderson regarding his absence from the Minnesota OTAs and the price per head solutions.
.
"The reason I'm not attending OTAs has nothing to do with wanting to be traded," Peterson said in the statement. "It's about securing my future with the Vikings. It's business, not personal and I understand that first-hand."
With $45 million left on his three-year deal, Peterson is trying to get a guarantee on at least some of that, and was originally due $12.75 million in 2015, $14.75 million in 2016 and $16.75 million in 2017. The team now has the upper hand, and seems to be holding that above him.
"He's really got two choices. He can either play for us or he can not play," Vikings coach Zimmer said after Minnesota's OTA on Wednesday. "He's not going to play for anybody else and that's just the way it's going to be."
It's not likely that he will hang up his cleats for good, as he will be giving up his NFL future and the potential to make at least a part of the $45 million, so Peterson may have to accept an awful lot less to play.
The 2012 MVP did take to Twitter on Thursday afternoon to clarify why he is trying hard to come to an agreement with the Vikings.
"I love people who think they know it all! Smh, Research how many NFL teams hasn't honored a player's contract & learn something."
Peterson has good reason to be worried and so even though he really did want to be traded to the Cowboys; it looks like it does all boil down to the money and price per head solutions..
All the online bookmakers believe that your Peterson jersey will be valid once again this year, as Peterson will have to eat his pride and play for what he is offered.
Maybe this will be a lesson for all the current and future players out there. Don't screw up a good thing. There really are no guarantees in life.