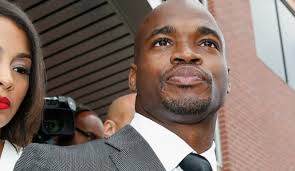 Online Bookmaking Solutions has learned that Adrian Peterson took to twitter to lash out against the Minnesota Vikings on their stance, saying something to the effect that NFL players should have the same kind of fully guaranteed contracts that players in other sports receive.
There was said to be 11 tweets Peterson made about the sort of leverage NFL teams have over their players. His argument is that there should be some protection for players being released with money remaining on their contracts.
"I know hundreds of player's that wished their team would've HONORED the contract! But instead got threw to the side like trash," Peterson tweeted. "A lil crazy how one side has so much power that they can do as they please when it come to the contract! But when the other-side (player's) Feels for whatever reason! Family, Change of scenery or simply – what they feels just might work best for them! Those same laws don't apply!"
He later clarified his tweets saying "This is nothing against the Vikings. I am just frustrated that our union did not get guaranteed contracts for its players." And a source close to Peterson said, "Adrian sees this issue as bigger than him. He truly believes that football players should have more protection with truly guaranteed contracts. It is easier to be quiet and not take the hatred from many people. However, that is not in his DNA."
Bookmaker Solution has learned that the 30 year old back sent his series of tweets a day after he released a statement to ESPN. In the statement he hinted that he wanted the Vikings to add guaranteed money to a contract that currently has none. He also said that he is skipping the start of the Vikes organized activities because he wants to secure his future with the Vikings.
The Peterson deal goes like this, it runs through 2017 and is scheduled to pay $12.75 million this season. He then would make $15 million in 2016 and $16 million in 2017. This also includes a $250,000 workout bonus each season, but there is no guaranteed money.
Peterson expressed to ESPN he was "still uneasy" about his return to the Vikes, believing the team had not supported him after he was indicted on child injury charges in September and calling the Vikes' decision to put him on the commissioner's exempt list as an "ambush." At the time, Peterson said his family had concerns about returning to Minnesota and that he might prefer a new start with another team.