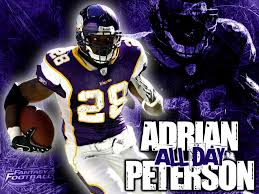 The best pay per head company has learned that Adrian Peterson's hometown of Palestine, Texas is still showing support for the beleaguered running back as the 9th annual Adrian Peterson day was held to support their native son.
A banner gave Peterson hope and a sense of pride, reading "Welcome Home! We Got Your Back!"
"I guess it's maybe a little different," Peterson said on Saturday. "Definitely get some more encouraging words — seeing the support. People, we're out here still supporting, who never stop supporting you. Yeah, it's a little different."
Even after not playing football for a year, Peterson showed that he still had it, admitting he had all the time in the world to stay in shape and practice. Vikings offensive coordinator Norv Turner told reporters in Minnesota Peterson was looking "like he hasn't missed a day."
"It feels good," Peterson said of what Turner had said. "Kind of combats what you normally hear from other media sources and people in general. 'He's been out a year, how's he gonna look, this that the other.' One of the best offensive minds who ever coached says he never missed a day, it felt good, to be honest. I worked extremely hard. I had a lot of time to keep my body in shape and it showed."
Peterson has been the subject of media attention at the best pay per head company for the assault of his son last year, which forced the Vikings to suspend him. He has also been under scrutiny for the recent questions regarding a trade with the Dallas Cowboys, or if continuing on with the Vikings, if they would honor his contract.
Saturday Peterson didn't have any of the past creeping in as he admired his fans and supporters from his hometown.
"You know, home, man," Peterson said. "So many people here before the fame, that supported me. I remember being at Palestine High School, seeing both sides, home and visitor sides, packed. The people in Palestine supporting me throughout my career. It says a lot."
Join the best pay per head company, IDSca.com for all of the latest news.