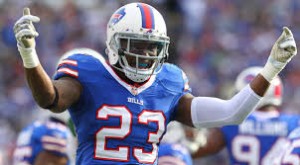 Aaron Williams, Bills safety, said that he continues to back his criticism of league officials, and wouldn't care less if he gets punished for it. Many online bookmakers can fully understand why he feels this way, considering the controversial actions that took place in the game.
"I don't care if I do get fined," the player said on Monday. "I speak the way I feel, and that's the way I feel."
The safety was not very happy at all when he saw two game officials bump their fists after Broncos RB C.J. Anderson ended up scoring a second of three TD's on Sunday, in Denver's 24-17 win over Buffalo.
Many fans could see that the Williams was very upset over what happened, as the player took to Twitter after the game saying that the game officials were taking sides with Denver.
He spoke about the number of officials on the field, even though at NFL games there aren't five, but seven.
For the NFL, the gesture made by the officials was fine. It took place after an umpire and a line judge consulted to figure out if the goal line was crossed by Anderson before he had his knee down, but many fans and players think something else about the gesture.
"It was an acknowledgement of good mechanics between the two officials involved in making the call," said Michael Signora, spokesman for the NFL.
The Bills, who are 7-6, suffered with the loss, and many fans believe that now their chances of making it to the AFC playoffs are slim. Buffalo now have a ranking of 11th place in the league's standings with three games remaining, and many wonder how they'll continue to do.
And other Buffalo players besides Williams complained about the officials' fist bump as well as the game's officiating.
However, CB Corey Graham took a more diplomatic stance to this problem. He said that the fist bump did not look very good – which many fans can fully agree with – but he could understand what led them to do that.
"I saw it. I don't think it was nothing crazy as far as 'Happy that they scored a touchdown,'" he said on Monday. "It was more of probably just, 'We got that one right.'"
NFL fans and online bookmakers know how controversial this action proved to be, and hope that some more light can be shed over why the officials did what they did. However, other fans don't see anything wrong at all with the gesture.