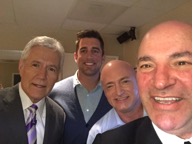 (IDSca.com Software Solutions, San Jose) — What do Aaron Rodgers, Shark Tank's Kevin O'Leary and former astronaut Mark Kelly have in common? They appeared together on Celebrity Jeopardy, in an episode that will air May 12th.
It was announced Wednesday that the Green Bay Packers' quarterback will go mind to mind against 'Mr. Wonderful' of the Shark Tank, and the retired space shuttle astronaut.
O'Leary got into the fun and tweeted a photo of his fellow contestants and the host, Alex Trebek, on Tuesday.
"Ok contest time. Who can name the other 2 contestants, host and name of this iconic game show? Watch May 12!"
The show has been a favorite for 5 decades amongst software solutions customers and we wish all of the contestants the best of luck.