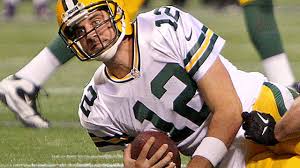 Packers QB Aaron Rodgers will most likely not be practicing much prior to the NFC Championship Game taking place next Sunday. The strain that he suffered on his left calf was "a little bit worse" after Green Bay defeated the Cowboys 26-21. Online bookmakers hope that he takes very good care of the injury before the game gets underway, and his fans hope to see him make it to the meeting in very good health.
However, the QB said that he'll be able to play against the Seahawks for 60 minutes, hoping to play yet another 60 when the Super Bowl gets underway.
"I think I've got 120 minutes left in me," said Rodgers. "So I'm going to do everything I can to make sure I can play all those minutes."
Last week, Rodgers was barely able to practice, and only on Thursday was he really working out, when he participated in half of the team's practice, more or less. He received treatment for a much longer time – with acupuncture included – than he spent holding practice since the injury in his calf was aggravated when the Packers took on the Lions in the season's last game.
The player said that he knew that he wouldn't be completely well for the meeting on Sunday, and against the Seahawks, the same would most likely happen.
"I've got to give a lot of credit to our training staff," said Rodgers. "They spent a lot of hours with me this week. They did a great job of getting me ready. My acupuncturist as well. She really helps. I'd like to say thanks to all of the fans and medical people out there who sent in ideas over the hotline. There was some really interesting ones. Kind of wish at some point we could release some of the emails and messages we got, but I know they're all in good faith there, so I appreciate the ideas. But, ultimately, it came down to our training staff, and they helped me get through this one."
The QB was not very effective during the first half of the game, but online bookmakers saw that in the second half he was truly impressive. He only had 90 passing yards with a TD, and at halftime Green Bay were trailing 14-10. In the game, the player recorded 317 yards and 3 passes for a TD.
"Just an incredible game for Aaron and I think especially for what he's been through the last two weeks," said Mike McCarthy, the team's coach.