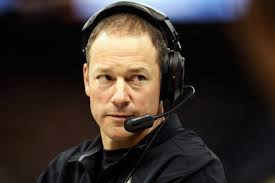 Pay per head sportsbook sources report that the Buffalo bills have placed offensive line coach Aaron Kromer on paid leave. This comes after his arrest this past weekend for allegedly punching a boy and threatening to kill his family. The Buffalo Bills made the announcement on their decision on Tuesday; this comes two days after his arrest on misdemeanor battery charge in Walton County, Florida.
"Over the last few days our organization has continued to gather information in regards to the alleged incident involving Offensive Line Coach Aaron Kromer," Bills president Russ Brandon said in the statement.
"We have been in regular discussions with the league office and have decided to place Aaron on indefinite paid administrative leave in accordance with the league's Personal Conduct Policy while we continue to work our way through the investigative process with the league."
Per Sportsbook Software on a statement released on Sunday by Walton County Sheriff's office, Kromer and his son, Zachary , allegedly confronted three boys who where fishing on the beach about using beach chairs. Kromer was accused of pushing one of the boys to the ground and punching him in the face after throwing there fish poles in the water. Kromer allegedly then ordered that the chairs be returned to where they were found and told the boy that he would kill his family if he reported him to the police, according to the statement.
This is one of many stories that take place during the offseason. It seems that when they don't have much to do, too much energy gets pinned up. I know this is not the case for everyone, but it does happen every so often. The story that comes to mind is one of Hip-Hop mogul Sean P. Diddy Combs and a UCLA coach getting into a scuffle over his treatment towards his son. Combs claimed that the coach had taken away his sons self-esteem, after his boy be a happy go lucky athlete, to one questioning everything he does.
Kromer joined Rex Ryan's coaching staff in January after two seasons as the Chicago Bears' offensive coordinator.
According to a report in the Chicago Tribune last December, which multiple sources confirmed to ESPN, Kromer made a "tearful apology" during a team meeting after criticizing quarterback Jay Cutler in a conversation with an NFL Network reporter.
Hopefully Kromer will learn his lesson and be wiser on a next encounter.